11-year-old makes remarkable recovery from rare brain condition at Holtz Children's and Lynn Rehabilitation Center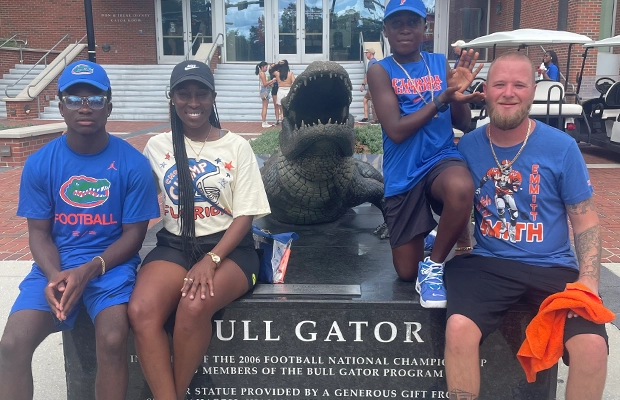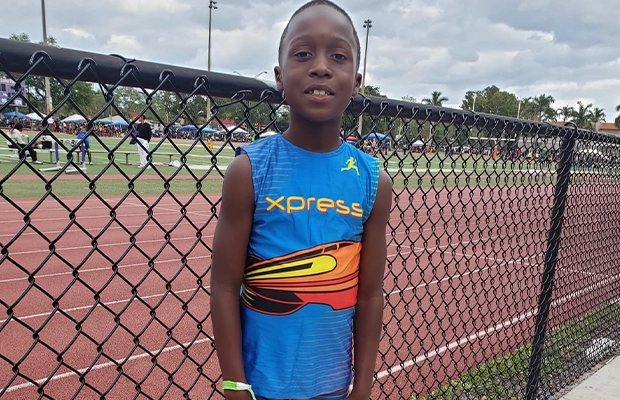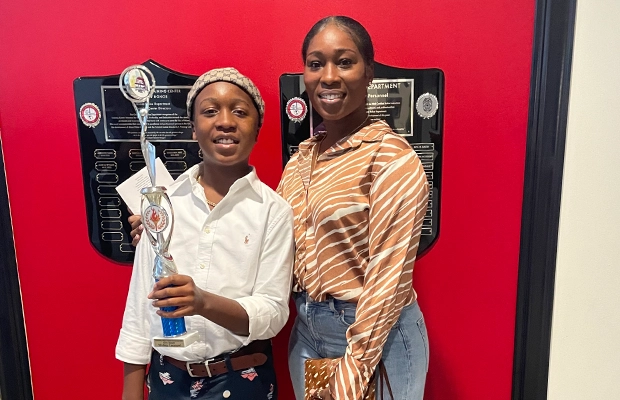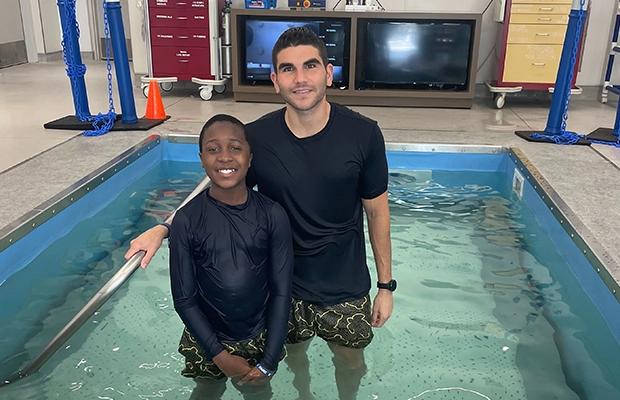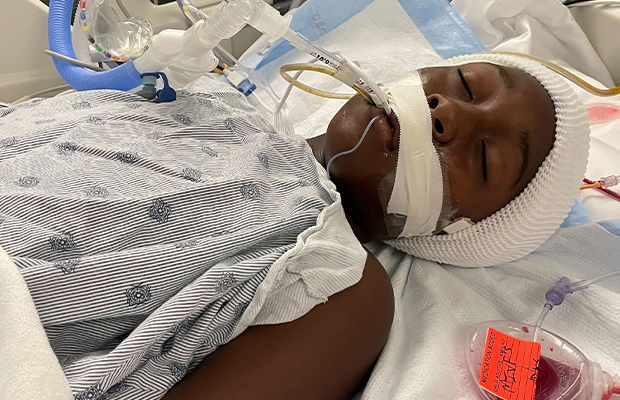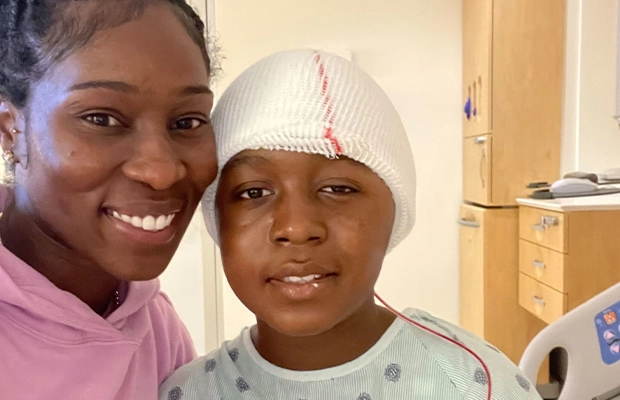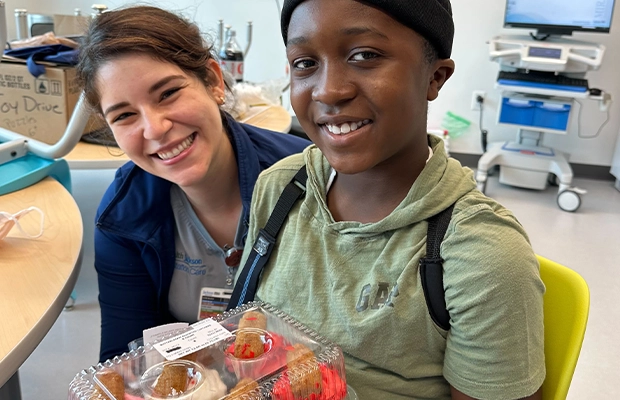 Mikey, 11, was a healthy and active middle schooler who ran track and field.
However, one night in September 2022, after falling asleep, he suffered a stroke.
"He was the ideal kid and rarely even had a small cold or headache," said his mother, Quentia. "He was very athletic, loved playing sports and running track and field. He was well and then all of a sudden, our lives changed."
Mikey's brother heard him crying in his sleep. Thinking he was having a nightmare, he tried to wake him, but couldn't, so he called for Quentia.
She found Mikey sweating profusely and moaning. His breathing was faint, and his fingers were clenched into fists. The family called 911, and emergency medical services took Mikey to Holtz Children's Hospital at University of Miami/Jackson Memorial Medical Center.
Within 30 minutes, Mikey was rushed to emergency neurosurgery.
Doctors discovered he had a massive brain bleed on the left side of his brain due to an arteriovenous malformation (AVM) – or a tangle of blood vessels – that ruptured, causing him to suffer a stroke and brain damage.
"We were so lost as to what an AVM was, it's so rare," Quentia said. "It was a very dark time for me. My whole world was turned upside down. I had never experienced anything like this. We felt helpless."
The first few weeks were a waiting game. However, Quentia and her family clung to their faith and belief in the boy's strength.
"We didn't know what to expect," she said. "We didn't know when he might wake up or open his eyes or what was damaged from what he experienced."
After surgery, Mikey spent four days in a coma in the intensive care unit (ICU) at Holtz Children's. When he finally woke up, he was confused and on a ventilator.
As soon as the team removed Mikey's ventilator, they found he had lost his speech and was only able to say 'yes, no, and ok.' He also lost the ability to walk, and couldn't move the left side of his body.
Before he could be discharged from the hospital, Mikey needed acute rehabilitation therapy to relearn how to eat, transfer from the bed, and use the restroom on his own.
At first, therapists started with just 10 minutes of occupational, physical, and speech therapy a day, which was all the boy could tolerate.
"Everything was so hard, and he was frustrated," Quentia said. "He had to relearn how to eat, relearn his vocabulary, and how to speak. He couldn't move. His body was flaccid. He was like a newborn all over again."
For patients like Mikey, recovery can be challenging and unpredictable.
"Unfortunately, patients who suffer this type of brain injury are at risk of having secondary abnormalities, such as the body having difficulty regulating itself, impaired sleep/wake cycles, abnormal muscle tone, weakness, and more," said Joslyn Gober, DO, medical director of pediatric rehabilitation medicine at Christine E. Lynn Rehabilitation Center for The Miami Project to Cure Paralysis at UHealth/Jackson Memorial, and a pediatric rehabilitation physician at UHealth – University of Miami Health System.
In order to reach the next phase of his recovery, Mikey had to increase his tolerance from 10 minutes to four hours of therapy a day.
"I asked him, 'do you want to be in a wheelchair? Is that what you want for yourself?' He said no. So, I said, 'what are you going to do about it? No one can do this for you,"' Quentia said. "I told him, 'You need to be a good sport, push yourself, and do the work to get better."'
After spending a month in the ICU and a week of hard work in therapy, Mikey exceeded his acute therapy goals, and in October, he was discharged from Holtz Children's and admitted to Lynn Rehabilitation Center.
"We are passionate about our patients and families," Dr. Gober said. "We approach each patient as an individual. As a team, we work closely with the family to formulate the best plan of care, and we are continuously learning and seeking out the latest information or techniques for the best outcome."
With the help of his rehabilitation team, Mikey has come far. He exceeded his inpatient therapy goals after one month, and after 10 months of outpatient therapy, he's able to walk on his own, and talk in sentences. He's also regained mobility in his shoulder and can lift his leg.
"When he first got into rehab, they asked Mikey his one desire, and he said he wanted to run again," Quentia said. "And they helped him do that. Today, he's running. It may not be how he used to or as fast as he wants to, but he's running and the joy on his face is everything."
Today, Mikey is home, his AVM has healed on its own, and he continues to do weekly therapy and exercise at Lynn Rehabilitation Center.
Now, he's working toward sprinting, and plans to return to school this winter after being homeschooled and making honor roll.
Mikey's mom is writing a book about his experience and recovery, so other families going through similar circumstances feel less alone.
"When we go back to Lynn Rehabilitation Center, the team all come to say hi, cheer him on, tell him how proud they are of how far he's come," Quentia said.
"The rehab team treated him like he was their own child. They were a bright light in such a challenging time. We became like family."