Bahamian Doctor Diagnosed with Rare Neurological Condition Turns to Jackson for Lifesaving Treatment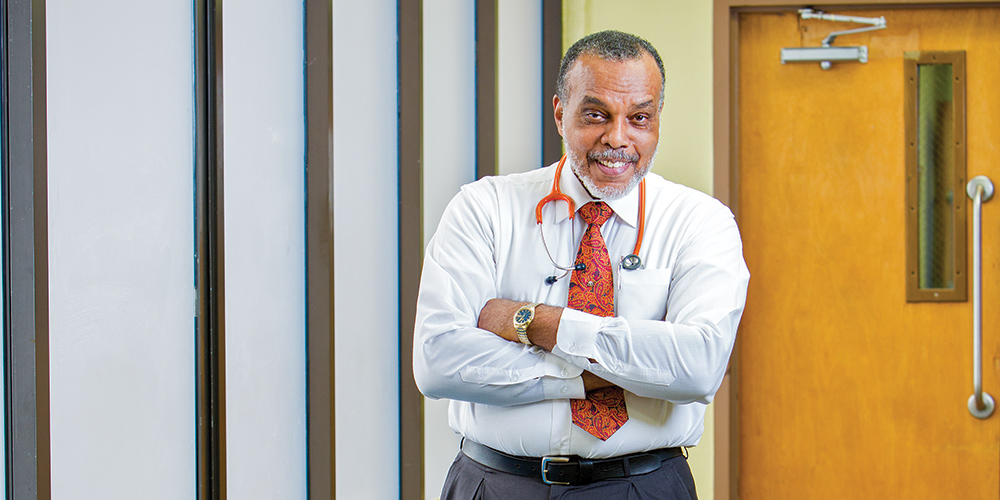 While attending an event in December 2016, Dr. Glen Beneby, chief medical officer for the Bahamas, suddenly blacked out and collapsed.
"After that, I started experiencing cognitive decline," said Dr. Beneby. "I didn't feel fully aware of what was going on, and I also started experiencing weakness on my left side."
After undergoing a series of tests, doctors diagnosed him with dural venous sinus thrombosis, a condition that creates clots in the main veins in the brain. They prescribed anticoagulants, commonly known as blood thinners, and anticonvulsants.
Still, his condition continued to deterioriate. "I could no longer dress myself, and I began walking slowly," said Dr. Beneby. "I was losing understanding of basic things."
In June 2017, Dr. Beneby was referred to Dr. Robert Starke, a UHealth – University of Miami Health System neurosurgeon and neuroradiologist at Jackson Memorial Hospital.
Dr. Starke reviewed his MRIs and noticed hundreds of abnormal vessels and severe swelling in the brain. After performing an angiogram, he diagnosed Dr. Beneby with a rare condition called cerebral dural arteriovenous fistula (DAVF) – a vascular anomaly formed by an abnormal connection between an artery within the lining of the brain, and a vein that carries blood from the brain to back to the heart.
If left untreated, the condition could be fatal.
Dr. Beneby underwent endovascular embolization, a minimally invasive procedure in which a catheter is placed through the leg and passed through the artery until it reaches the DAVF. The fistula is then plugged with glue to correct the abnormal pattern of blood flow.
His recovery included occupational, physical, and speech therapies at Jackson Rehabilitation Hospital.
Within just weeks, Dr. Beneby was smiling and carrying conversations again.
"This whole experience truly confirmed my faith in God and life," said Dr. Beneby. "This is a true miracle by definition."