Experts Pioneer Groundbreaking Treatment For Stroke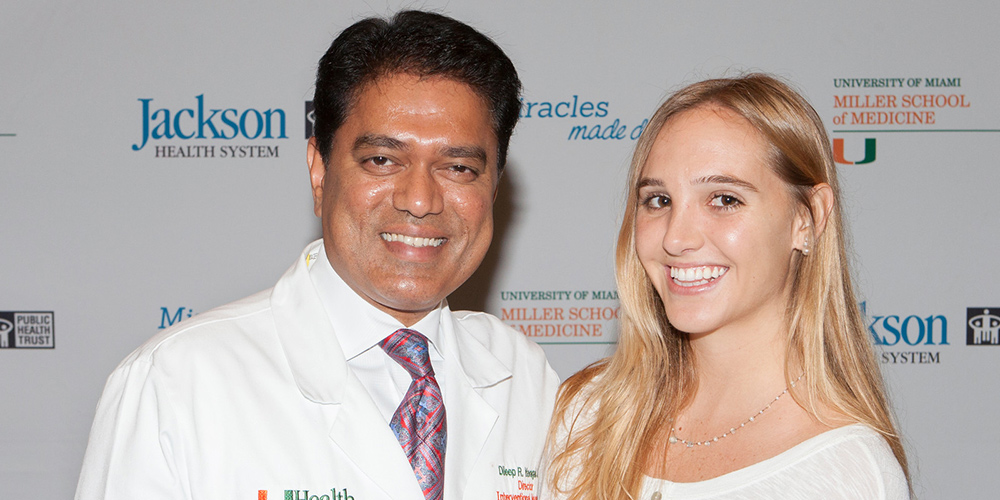 Maintaining a healthy lifestyle has always been a priority for 26-year-old Isabel Vinueza. She exercises several times a week, eats a vegan diet of mostly organic food, and has routine check-ups with her physicians.
So nothing could prepare her for the sudden paralysis that struck half her body, and the slurred speech that came with it on a recent morning.
"My right hand was paralyzed and my right leg was paralyzed. It was the weirdest feeling," said Vinueza. "I knew something was wrong. I needed help – quickly."
Fortunately, Vinueza's boyfriend was there. He noticed that her face was drooping and that she couldn't speak clearly, classic signs of a stroke. He dialed 911, and within minutes paramedics arrived. Vinueza was having an acute ischemic stroke, which occurs when a blood clot blocks an artery that carries blood to the brain.
As soon as Vinueza arrived at Jackson Memorial Hospital, a Comprehensive Stroke Center, she was quickly assessed by the stroke team, led that day by Amer Malik, MD, MBA, a University of Miami Health System – UHealth stroke neurologist, and his vascular neurology fellow, Erika Marulanda-Londono, MD.
The stroke team immediately administered the standard clot-buster medication, intravenous tissue plasminogen activator (IV tPA), the only FDA-approved drug to treat acute ischemic stroke given within 4 ½ hours of the first symptoms. However, the danger was not over.
The CT scan revealed evidence of a clot blocking the largest blood vessel that supplies blood, oxygen, and nutrients to the left side of Vinueza's brain, which controls language and speech. More invasive therapy was required as the chance of IV tPA opening the blockage by itself was small.
Less than 30 minutes after first being met by the stroke team at Jackson Memorial, Vinueza was wheeled into a high-tech angiography suite where Dileep R. Yavagal, MD, a UHealth interventional neurologist, performed a recently proven, minimally invasive procedure to clear the blockage. Using the stent retrieval device Solitaire, he grabbed the clot inside the blocked brain artery and removed it through an artery in the leg. Instantly, the blood supply in Vinueza's brain was completely restored.
"When I woke up, I could talk, move my hands, wiggle my toes," she said. "It was the best feeling ever."
Dr. Yavagal led the Miami arm of the key national clinical trial that approved Solitaire, changing the standard in stroke care. Now, instead of just administering IV tPA, neurologists are urged to use a retrievable stent to clear stroke-causing clots. This treatment is most effective up to six hours from the onset of stroke symptoms, and effectiveness decreases with time.
"The trials clearly showed us that retrievable stents significantly improve the chances of a patient making a full recovery, versus just administering IV tPA," said Dr. Yavagal. "In Isabel's case, without Solitaire she would have been left with permanent paralysis and speech deficits, likely needing lifetime assistance."
The leading cause of serious, long-term disability in the United States, strokes are more common in adults over 65. Still, they can affect people of any age: nearly one-fourth of all strokes occur in people under the age of 65.
"I feel fortunate that I came out of this fine – that's unheard of," Vinueza said. "This team saved my life. They knew exactly what they were doing. I know how lucky I am."