Jiu-Jitsu Athlete Finds Hope at Lynn Rehabilitation Center After Suffering Severe Spinal Cord Injury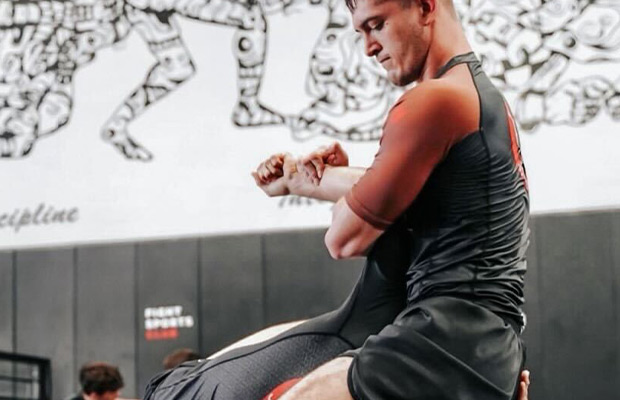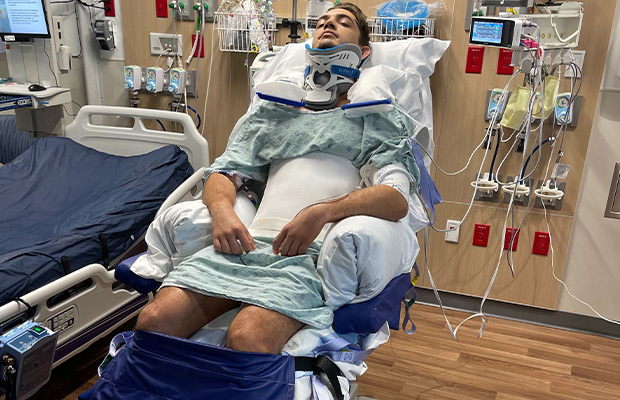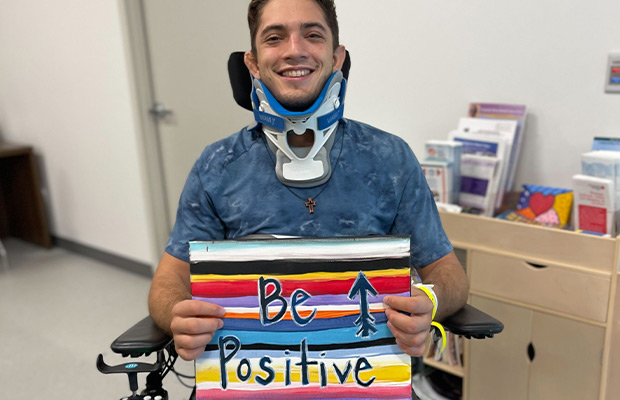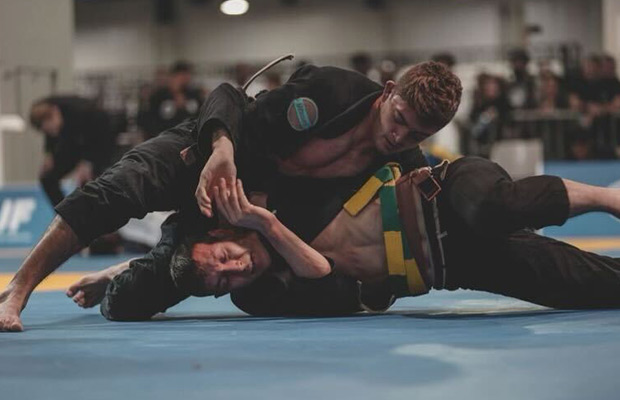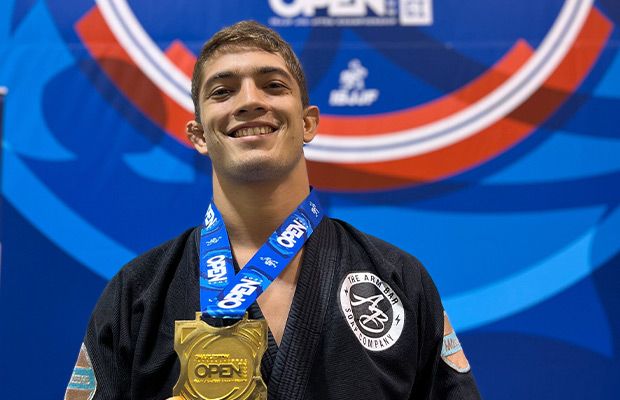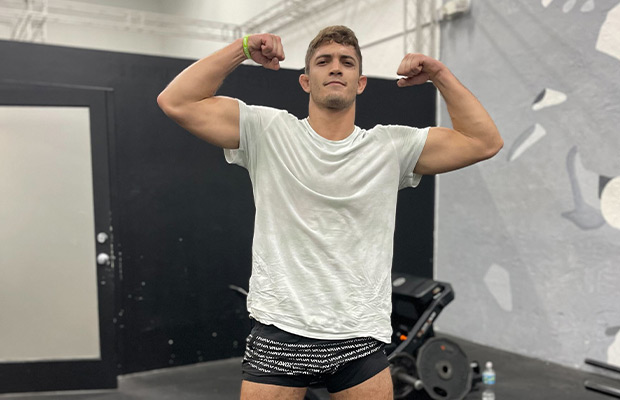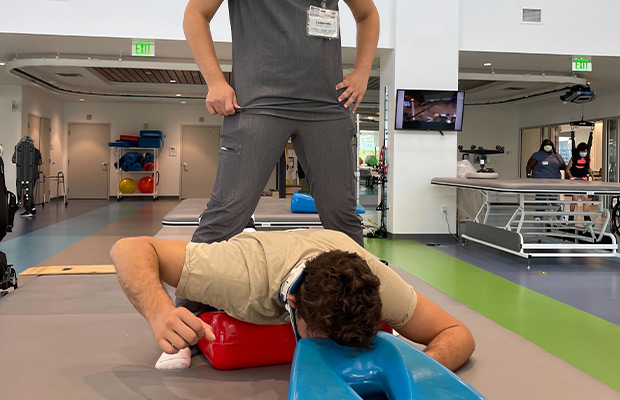 By: Krysten Brenlla
Benjamin Kunzle, 23, has been training in jiu-jitsu since he was 11 years old. After more than a decade of practicing the sport, he became one of the best athletes within his division in the world.
On May 23, 2022, Kunzle was getting ready to fight in the world championship. He was training with a teammate before the tournament when the other fighter accidentally fell on Kunzle's neck.
That's when he heard a pop. His neck dislocated.
"After hearing the pop, I remember dropping to the floor, my body stiffening out, and I couldn't feel or move anything," Kunzle recalled. "Right away, they called the paramedics. Throughout the entire ambulance ride, I felt sharp pains everywhere."
Kunzle was rushed to Ryder Trauma Center at Jackson Memorial with an isolated cervical spine injury, or a C5-C6 spinal cord injury, which resulted in a partial loss of sensation, and ultimately, paralysis in his upper and lower extremities.
Upon arrival to Ryder Trauma, Kunzle's team of neurosurgeons and trauma surgeons got to work. Allan D. Levi, MD, PhD, chief of neurosurgery at Jackson Memorial Hospital, and professor and chairman of the Department of Neurological Surgery at the University of Miami Miller School of Medicine, successfully realigned his neck and spine through an incision in the front of the neck. The team then placed a plate and bone graft to fuse the spine.
"For this type of neck and spine injury, emergent surgery was extremely important to ensure the best recovery possible," Dr. Levi said. "Ben's got a phenomenal attitude, one of the best I've ever seen, and with the incredible support of his family and our amazing rehabilitation center, his recovery looks extremely promising."
After surgery, Kunzle spent one week in the neurosurgical intensive care unit to recover, and was soon transferred to Christine E. Lynn Rehabilitation Center for The Miami Project to Cure Paralysis at UHealth/Jackson Memorial.
"When the injury initially happened, I thought, 'Oh I'll be fine in a month, this is nothing,'" Kunzle said. "But as the weeks went by, I remember losing hope, because I realized that it was going to be a long journey. Luckily, I found amazing therapists at Jackson who are helping me feel like myself again."
When he arrived at Lynn Rehabilitation Center in late May, he was only able to move his biceps and one wrist.
Now, after several months of rehabilitation therapy, Kunzle's control and strength in his arms have greatly improved. He is able to turn his torso from side to side, has full motion in his neck, and uses a manual wheelchair instead of a power wheelchair to get around.
"One of the main exercises that Ben and I focused on was boxing, and I think it really helped him cope with everything he was going through," said Ashley Herrera, a certified therapeutic recreation specialist at Lynn Rehabilitation Center. "Through our boxing exercises, I saw improvements in his balance, strength, and range of motion in his upper extremities – he even pushed me to take boxing classes so I can keep him motivated."
Although his movements are getting better each day, Kunzle has a long road ahead of him. He relies on his family and loved ones to help him with day-to-day tasks, like getting dressed and going to the bathroom.
He still cannot stand on his own or move his left hand. However, with daily training, Kunzle's therapists are hopeful that one day, he will walk again.
"The combination of Ben's attitude and motivation, the skillset and knowledge of our therapists, and our facilities' state-of-the-art adaptive equipment make up the perfect formula for the best outcome," Herrera continued. "We're teaching him the fundamental skills to be as independent as possible – and I think that keeps him going."
Through his Instagram platform, Kunzle motivates other disabled individuals by sharing his rehabilitation exercises with his more than 20,000 followers. He hopes others will know and understand that it is possible to recover after a serious injury.
"I've always had the mentality that if I put in a little work today, tomorrow I'll be better than I was yesterday," Kunzle said. "I want to walk, be independent, and eventually fight again – that's what keeps me going during my rehabilitation."
Today, Kunzle continues to receive outpatient physical, occupational, and recreational therapies. His positive mentality, strong drive, and unconditional support from his family, friends, therapists, and doctors push him to keep fighting – just as he once did in the ring.
"Life will never be the same as it was before, but life is not over either," Kunzle continued.
"There's a lot more to do and live for, and I can only thank my loved ones and the team of doctors and therapists at Jackson ­– the real heroes – for helping me realize that."