Man Crushed by a Hummer Saved and Rehabilitated Thanks to Jackson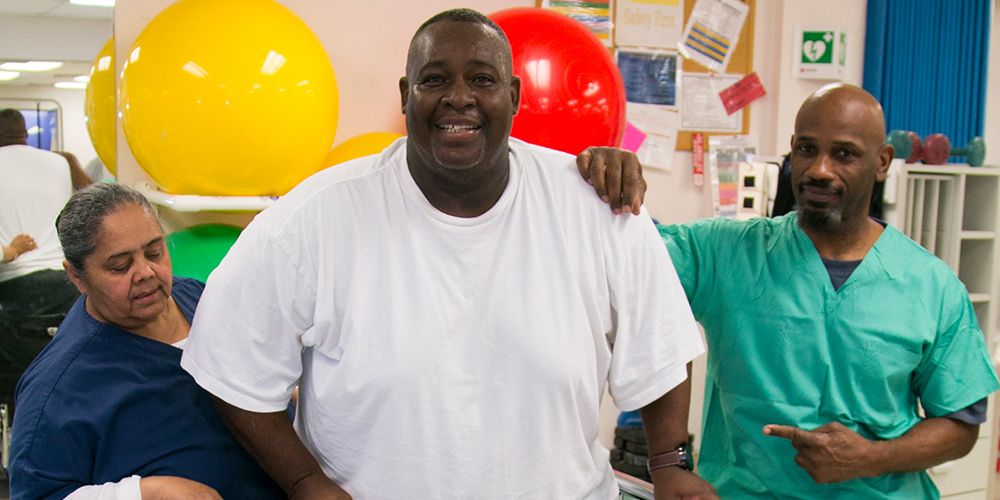 When Robert Billue left work on a Friday afternoon in April 2015, he was looking forward to the start of the weekend with his family.
But on his drive home, he nearly lost his life.
The driver of a Hummer ran a red light and slammed into Billue, who was riding a motorcycle as he entered an intersection near Miami Springs. His children had given him the bike as a Father's Day gift.
Critically injured, Billue was rushed to Ryder Trauma Center at Jackson Memorial Hospital. A team of trauma surgeons and nurses was waiting for his arrival to immediately begin the work of trying to save his life.
"He suffered a highly complex set of injuries to his left lower extremity, including open fractures of the tibia, an open knee dislocation with massive soft tissue loss, a femoral shaft fracture, and an intertrochanteric hip fracture," said Stephen M. Quinnan, MD, a UHealth – University of Miami Health System orthopaedic trauma surgeon at Ryder Trauma Center and assistant professor of orthopaedic trauma surgery at the University of Miami Miller School of Medicine. "His injuries were so severe that we had several serious discussions about the possibility of an above knee amputation."
Fortunately, the trauma team stabilized Billue, saving both his leg and his life.
He would spend nearly four months at Ryder Trauma Center, where he underwent a total of 18 surgeries and began inpatient rehabilitation.
"Without a doubt, Jackson saved my life," Billue said. "I was in really bad shape."
Yes he was alive, but there was still a long journey ahead.
After being discharged, he began outpatient physical therapy at Jackson Rehabilitation Hospital, followed by inpatient and outpatient rehabilitation at Jackson North Medical Center. Billue's ultimate goal: to walk again.
"I had no mobility," he recalled. "I couldn't do anything by myself."
Billue could barely bend his knees. He couldn't bathe himself. And he needed help doing simple daily tasks like getting dressed. For the past seven months, Billue has been doing physical therapy twice a week at Jackson North, under the guidance of physical therapist, Juana Torres. And it is paying off.
"I've come a long way in a short time at Jackson North," he said. "It is incredible."
Billue complements his therapy with daily walks near his Miami home. He hopes he can soon return to his job as a buyer for Miami-Dade County.
He is grateful to everyone who cared for him at Jackson Health System – from the trauma surgeons and nurses who saved his life at Ryder Trauma to the therapists at Jackson Rehabilitation Hospital and Jackson North who have helped him regain his independence.
"I wouldn't be here today if it wasn't for everyone at Jackson," he said.