With Quick Thinking, Jackson IT Employee Survives Brain Aneursym at Ryder Trauma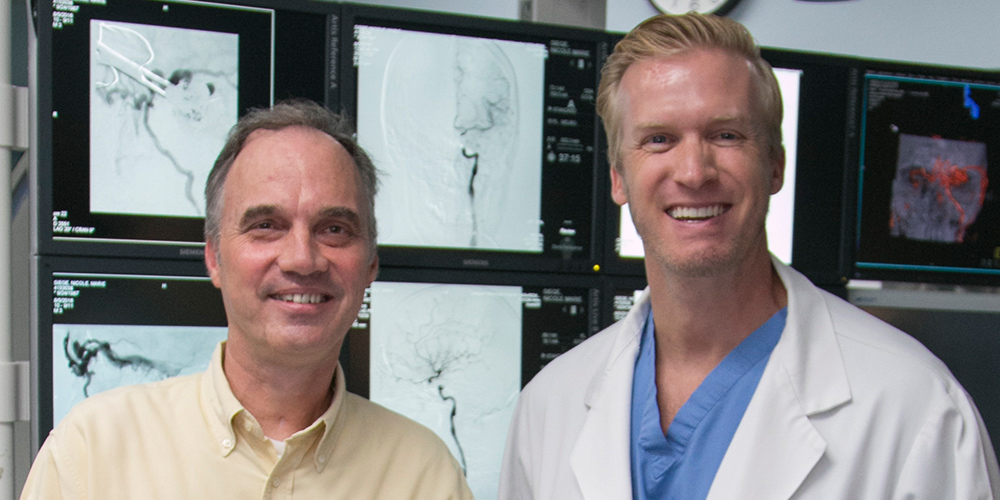 Eric Keller has been a proud member of Jackson Health System's Information Technology (IT) Department for a decade. The network specialist works in different areas of the system's hospitals, where he helps staff and often hears success stories about patients who have beaten the odds.
He never expected that he would become one of them.
Last September, Keller, then 48, was working on a computer in the Ambulatory Care Center West at the University of Miami/Jackson Memorial Medical Center. He remembers turning his neck and all of a sudden hearing a snap. Almost immediately, he began profusely sweating. Then came a feeling of lightheadedness.
"I didn't feel good," he recalls. "I was thinking of going home. But I knew something wasn't right. I asked to be taken to the emergency room."
Fortunately, the Emergency Department at Jackson Memorial Hospital was just steps away.
The medical team in the Emergency Department evaluated Keller and determined his situation was dire. They did a computerized tomography (CT) scan and diagnosed him with a brain hemorrhage.
Keller was rushed into a high-tech angio suite at Jackson Memorial, where an angiogram, an
X-ray of blood vessels, confirmed that he had suffered a potentially deadly ruptured brain aneurysm – a bulge or ballooning of a blood vessel in the brain. To make matters worse, he also suffered a severe brain hemorrhage, which was caused by an artery in the brain bursting and causing localized bleeding in the surrounding tissues.
"He was in really bad shape when he came in," said Eric Peterson, MD, a UHealth – University of Miami Health System neurosurgeon at Jackson Memorial. "These patients are very sick and fragile."
Dr. Peterson, a brain aneurysm expert who specializes in unique, minimally invasive approaches to treat complicated brain aneurysms, performed an emergency procedure in which he guided a catheter – the size of a strand of hair – into an artery in Keller's leg, and threaded it to the area in the brain where the aneurysm was located. He was able to stop the bleeding by placing tiny platinum coils in the aneurysm to close the hole, but Keller wasn't in the clear just yet.
Doctors did not know if Keller would survive; and if he did, whether he'd be left with permanent brain damage.
"He had multiple problems and every complication a patient can get from a brain hemorrhage, Eric got," Dr. Peterson said. "But if the medical team is really aggressive and if you're at a good center like Jackson, you can manage these complications and patients can recover."
Keller spent nearly a month in an induced coma in the neurosurgical intensive care unit (NSICU) on West Wing 8 at Jackson Memorial, under the care of a highly specialized team that treats patients with complex neurological issues. During that time, he had pneumonia and required assistance from a ventilator to breathe. He also had a vasospasm, a blood vessel spasm that can occur after a brain hemorrhage and often leads to a life-threatening stroke.
Thanks to the round-the-clock care in the NSICU, Keller was able to survive all of those issues.
His recovery continued on West Wing 11, and in the neuro rehabilitation unit, where he received intense physical and occupational therapy – specialized for patients who have suffered brain injuries.
"Every doctor, nurse, technician, and therapist who cared for me was incredible," Keller recalled. "These are amazing people and they are the best at what they do."
After spending nearly two months at Jackson Memorial, Keller went home in November, just days before Thanksgiving. Today, he is walking, talking, and suffered no loss of brain function.
"To see him smile, talk to you, and look you in the eye, it's a powerful thing," Dr. Peterson said. "This is definitely one hell of a recovery."
"It is wonderful to be part of a truly multidisciplinary team of neurosurgeons, neuroscience nurses, and neurointensivists working together to help patients like Eric recover to their fullest potential," said Kristine O'Phelan, MD, a UHealth neurologist who is the director of neurocritical care and the neurosurgical ICU at Jackson Memorial.
For his part, Keller says he has so much to be grateful for, noting the endless love and support he received during his recovery from his wife, Ruby, who was by his side during his entire hospital stay, and his family. His work family also showed an outpouring of love.
"My co-workers in IT, hospital administration, and employees from other areas visited me every day," Keller said. "They provided me support in so many ways – and that I will never forget."
Now fully recovered, Keller is back to work full-time at Jackson.
"I have always loved Jackson – but now, it's a different type of appreciation," Keller said. "My life was saved here. I feel like I have been reborn."